Azuma, a woman in her 30s(a company employee working in community revitalization)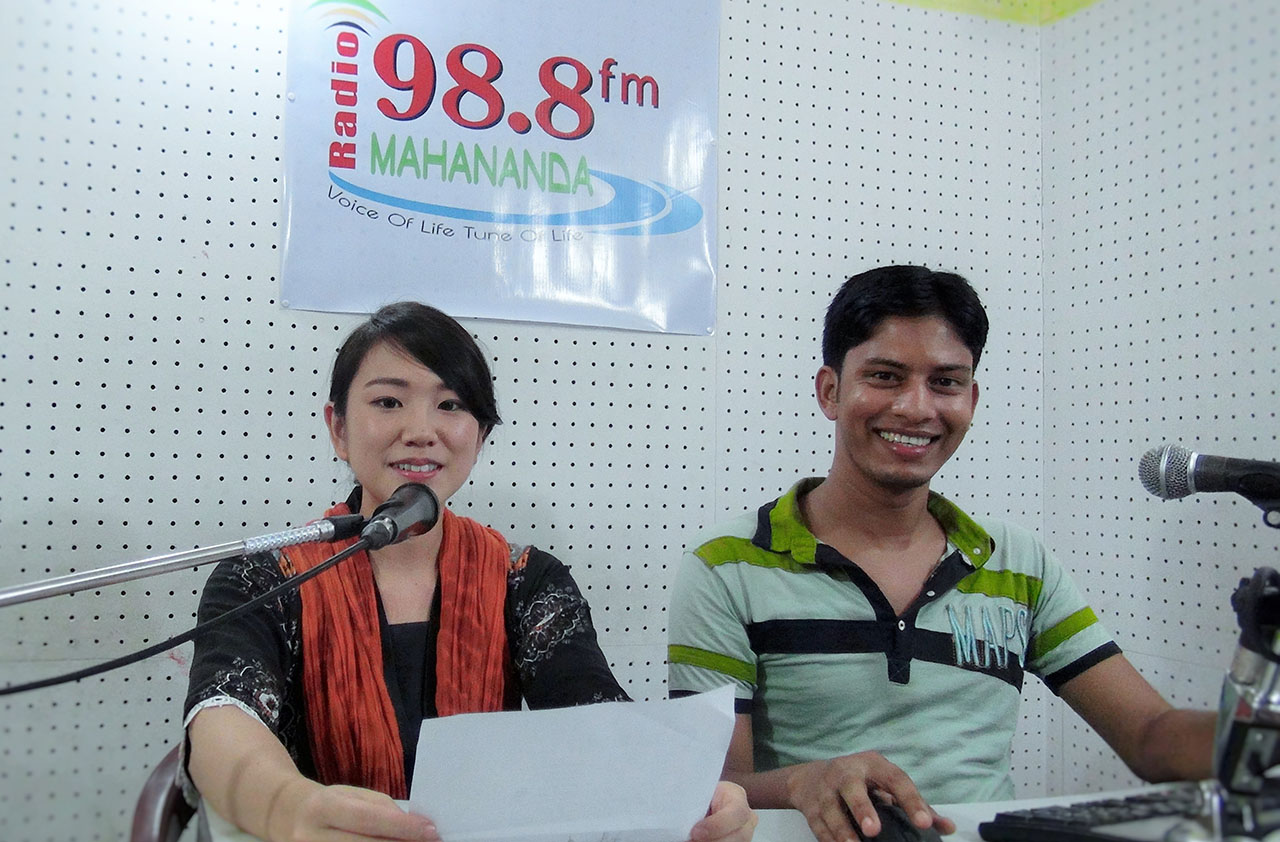 Previously, when she was a TV reporter, Azuma would report on incidents and accidents, and she was also responsible for programs such as A Food Tale, a segment that involved digging up, pursuing, and searching for good food that was characteristic of the area. Currently she is involved nationwide in community revitalization, in which she strives to use special local food cultures and people to transform places into tourist attractions. Her life revolves around using Sake to make people rediscover local identity. She took part in the 12th Japan Beer Journalists' Course.
"The Sake and Fish of a Land-Locked Prefecture: A Food Tale About the Local Ingredients of Saku"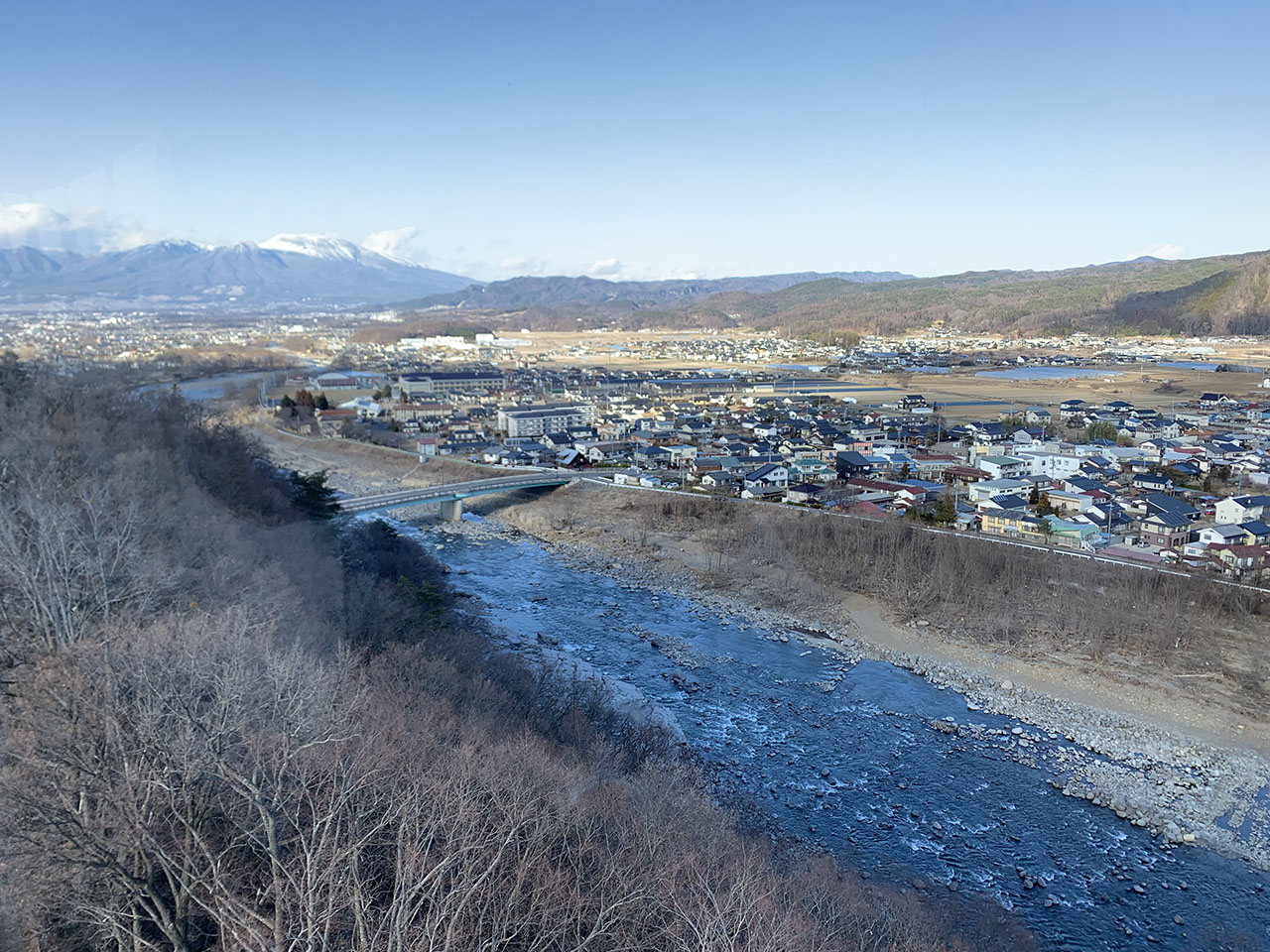 Recently I visited Saku for two days and one night to accompany an inspection tour by the Saku Sake Brewery Agritourism Promotion Council.I think these logs will contain posts about Sake, so for my part I would like to tell you about something that goes well with Sake, in this case a fish found in Saku.I am going to tell you about a local resource that you would hardly expect to find in landlocked Nagano Prefecture, and particularly in the part of the prefecture that is farthest from the sea, Saku City. I am going to tell you about fish!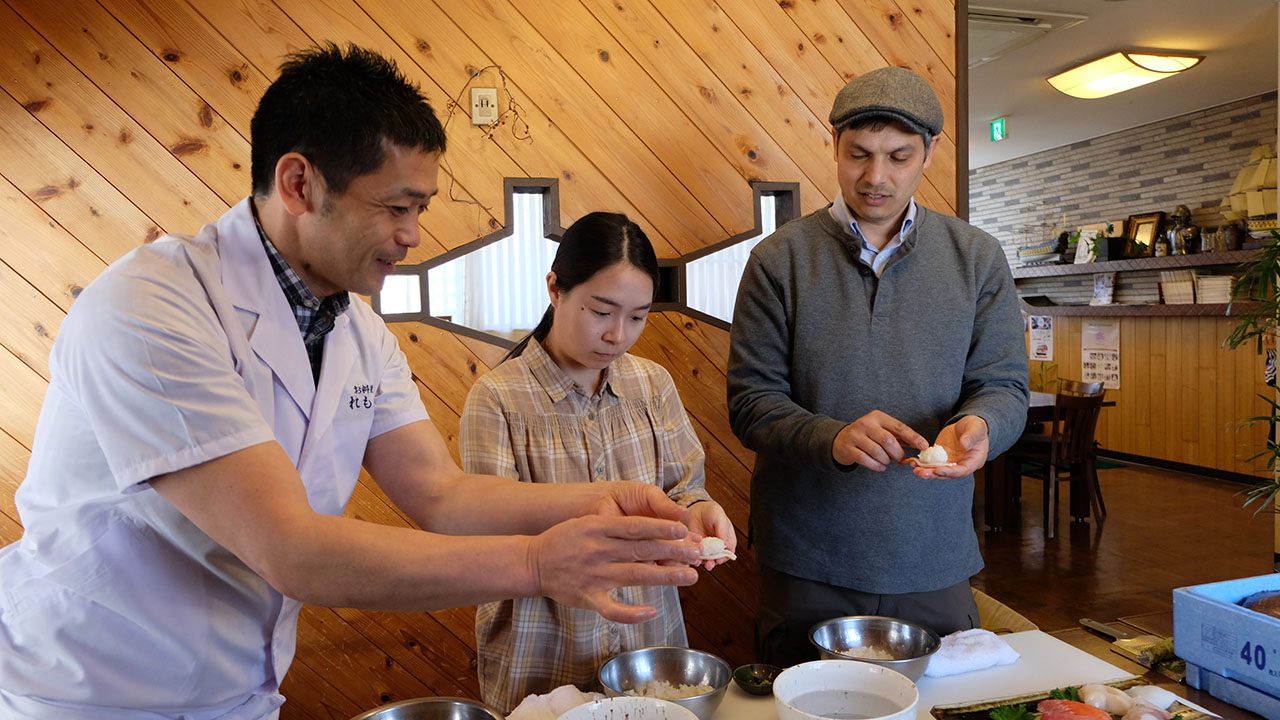 What we visited on our inspection tour was a Japanese restaurant named Oryouri Remon, located in Usuda, Saku City.The owner of the restaurant, Yusuke Hamaguchi, loves local ingredients, and he also hosts a sushi-making experience for visitors.
After training at Japanese restaurants in Roppongi and Ginza, in 2008 Mr. Hamaguchi returned home to Usuda in Saku City and opened this restaurant.He is so skilled a chef that at a nationwide Japanese-cooking competition, he won the highest prize in the local-cuisine category, the Minister of Agriculture, Forestry and Fisheries Prize.When we visited, he was teaching a sushi-making experience.At the lesson, one person from the US and another from Taiwan were having their first try at making sushi.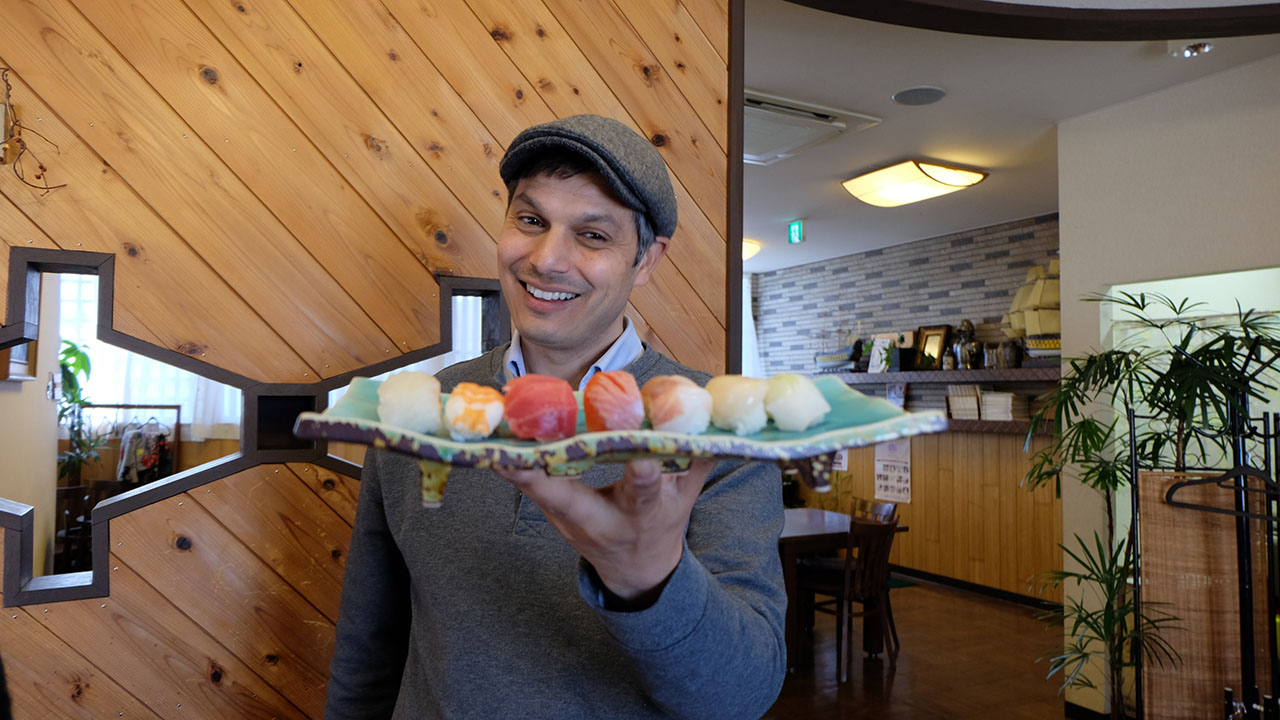 Thanks perhaps to Mr. Hamaguchi's teaching, the sushi turned out this nice!After the sushi-making experience was over, we talked not just about the experience but also about resources that are unique to the Saku area.
Look at these fish that Mr. Hamaguchi brought!He says that the city of Saku, located in a land-locked prefecture, has truly been saved by these fish.The fish shown at the bottom of the photo, with spots like a rainbow trout, is a "Shinshu salmon."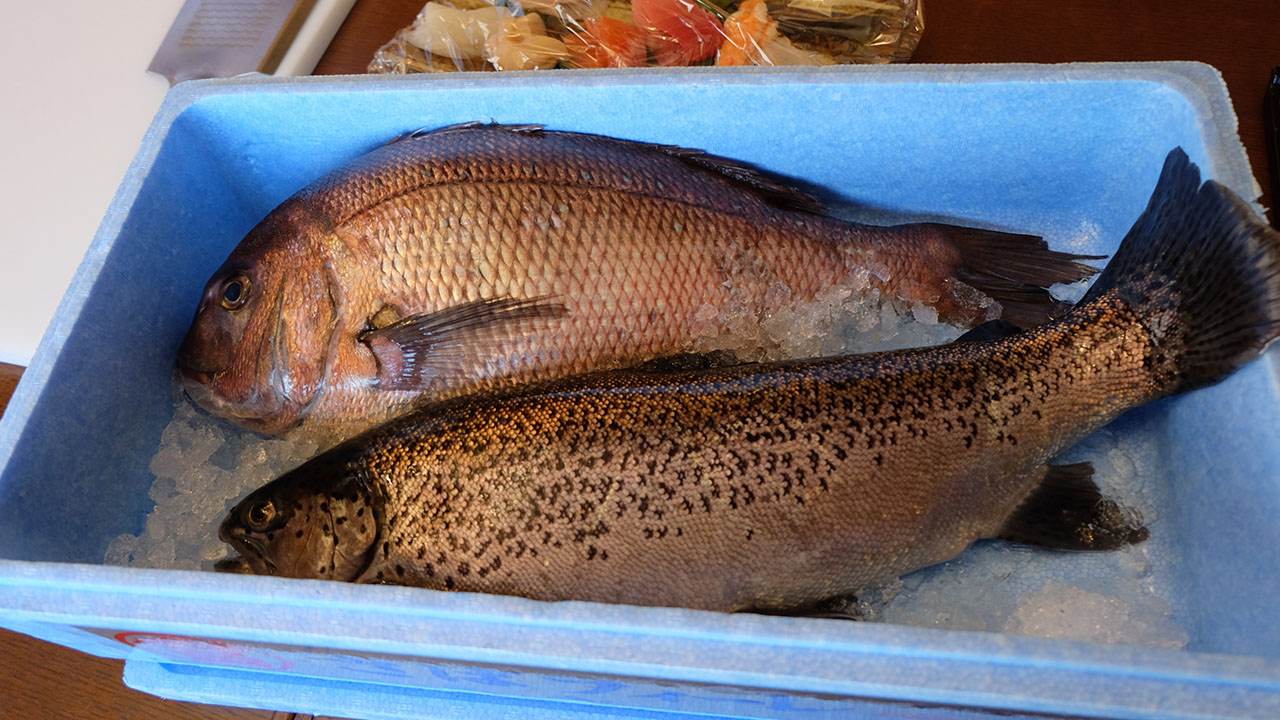 In the sushi-making experience, the fish meat that looks like salmon (second from the right in the photo) is actually Shinshu salmon.The Shinshu salmon is a cross between rainbow trout and brown trout that it took the Nagano Prefectural Fisheries Experimental Station 10 years to successfully develop.Its name comes from the fact that, like a salmon, its skin is silver and its meat is red.
At the end, Mr. Hamaguchi told me about a breed of fish that he absolutely loves, and that he thinks you really must try if you visit Saku.That fish is the Saku carp, a fish produced only in the Saku area and very popular here since the Edo period.(Photo courtesy of Agricultural Administration Department, Nagano Prefecture)In the past, the Saku carp was extremely popular in this area, and it was served on all ceremonial occasions.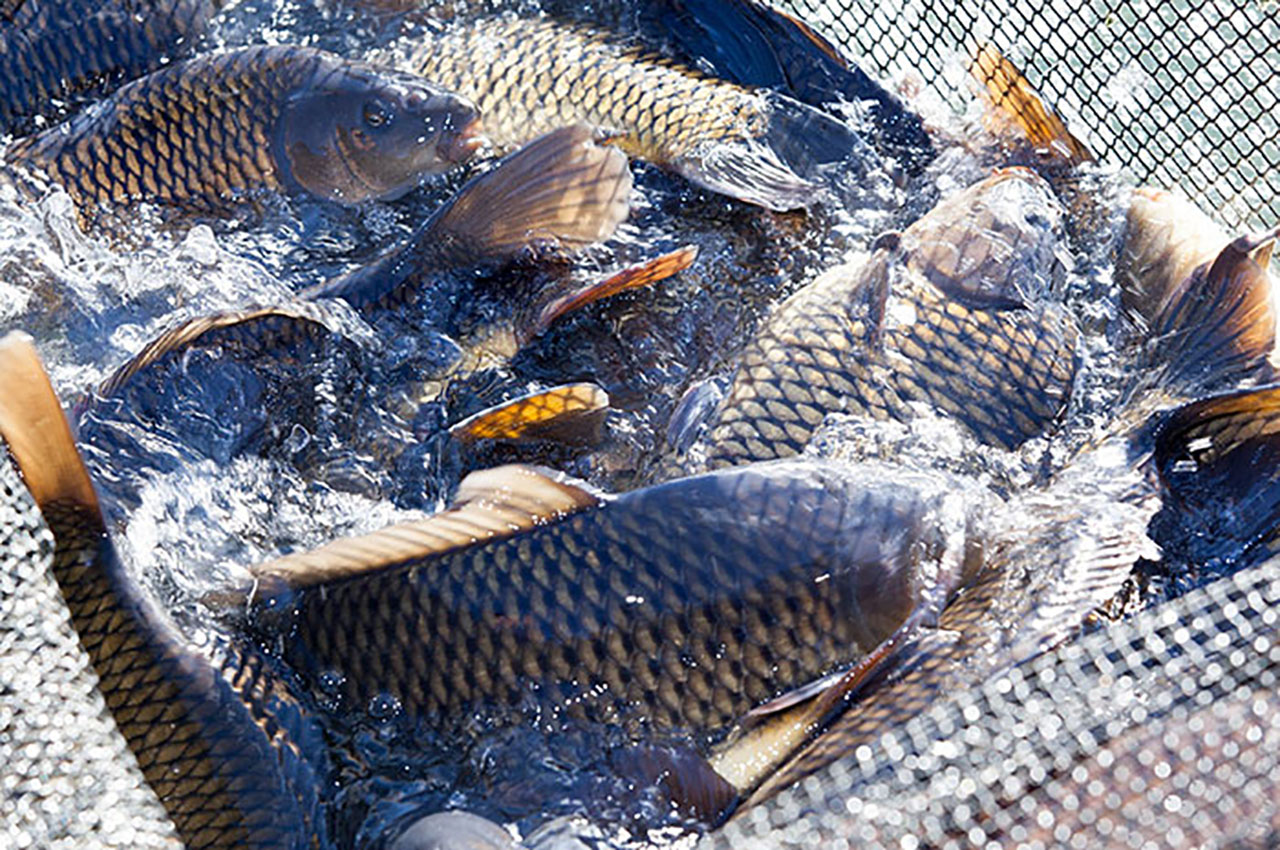 However, as a result of factors such as changes in eating habits, people now eat less fish. Due to this and the fact that Saku carp has a reputation for smelling "muddy," demand for this fish is currently declining.As a chef, Mr. Hamaguchi is trying to change the image of this local food, Saku carp, by creating exquisite dishes using this fish.
Mr. Hamaguchi is really a fan of carp, so he continues to devote himself to popularizing it.
He says, "Carp has a lot of bones, so it is time-consuming, but I beat it, slice it up, and prepare it so that it has a really pleasant taste and texture."Through his skill and zeal, the carp of Saku are transformed into colorful, beautiful dishes.Shinshu salmon and Saku carp are truly local treasures. These local foods owe their existence to this area's unique natural environment and the efforts of its people.For a uniquely enjoyable experience, treat yourself to the fish and Sakes that you will only find in Saku!
BACK TO INDEX